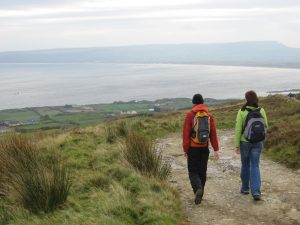 Inishowen Head, Stroove, Co. Donegal.
Date: Sunday, 2nd of April 2017
Difficulty: Easy
This months' New Members Walk will follow a bog road that climbs from Stroove Beach to Inishowen Head. Spectacular views of Kinnagoe Bay and the Atlantic make this a very scenic walk. Kinnagoe Bay is also the final resting place for the ill-fated galleon of the Spanish Armada, La Trinidad Valenca, which sunk there in terrible storms in 1588.
New members are recommended to attend this walk as their first outing with the Club. All existing members are also welcome to attend.
Gear requirements are a waterproof coat and trousers, hat, gloves, warm clothing, walking shoes/trainers, food and lots to drink and a ruc sack to carry it all in. Contact Sharon for more details and how to join the Club.