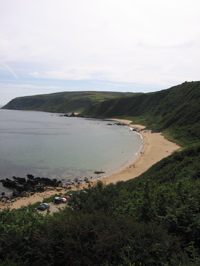 Location: Stroove, Inishowen, Co. Donegal
Duration: 3.5-4hrs
Difficulty: Easy
The Drunken Duck (a bar) provides the starting point and car park where we begin the walk. Following a path near the bar, the route climbs over the hill following old bog roads and descends into the valley behind until reaching the beach at Kinnagoe Bay.
The spectacular golden sands of Kinnagoe Bay and its dramatic setting make it a real hidden gem of County Donegal.  The bay is also the final resting place for one of the ill-fated galleons of the Spanish Armada (La Trinidad Valencera) sunk in terrible storms in 1588.  You can see the recovered cannon in Derry City Museum – www.derrycity.gov.uk
Heading home we retrace our steps, across the beach, over the hill and back down into Stroove. The views across the Foyle to Magilligan, Castlerock and Benevenagh on a clear day are excellent.
Although this is graded as an Easy walk, the bog paths and roads can be mucky and waterlogged so good footwear is strongly recommended.