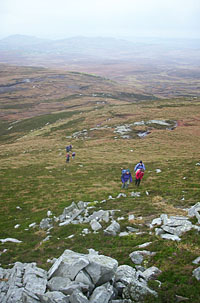 Location: Carndonagh, Inishowen, Co. Donegal
Duration: 2.5hrs
Difficulty: Easy/Medium : Grade 2
This walk in nearby Inishowen is on the highest point in the peninsula, the aptly named Sliabh Snaght (snow mountain).  When there is any snow .. it falls on this mountain.
The route follows turf-cutting paths to the foot of the mountain. From here a short dash across the scarred turf and bog pools to the dry and heathery slopes of Snaght Beg, the lower summit of the mountain.  At the small jumble of stones that mark the cairn of Snaght Beg the path leads across the plateau to the second and main summit of Sliabh Snaght.
The summit of Sliabh Snaght is marked with a large cairn and inside a Trig point (Ordnance Survey measuring post).  On a cold or windy day a great shelter for lunch. Returning to the start along the same route.