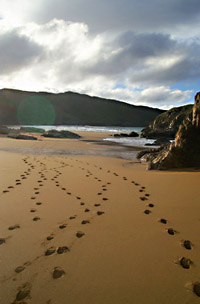 Location: Allihies, Co. Donegal
Duration: 4hrs
Difficulty: Easy/Medium : Grade 2
The walk follows the perimeter of Melmore Head from Tramore Beach to the northern tip of the peninsula.
Crossing several spectacular beaches, following the cliff and coast we make our way along the western side of the headland.  There is no path so good footwear is essential as the ground may be wet in places.
Although this is a coastal route there are several short uphill sections on the route.