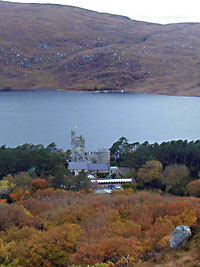 Location: Gartan, Co. Donegal
Duration: 4hrs
Difficulty: Easy
This route begins on the western end of the National Park and follows a path/road that leads into the western end of the lake. We follow the side of the lake until we reach Glenveagh Castle and Gardens.  A short lunch-break, opportunity to visit the gardens, cafe(if it is open) and surrounding area. Then we return along the side of the lake and up to the top of the valley where we began.
The National Park with its spectacular scenery is a popular walk destination and a great opportunity to sample the sights of Donegal. The park boasts wild deer, golden eagles (recently re-introduced to ireland – http://www.goldeneagle.ie ) and a range of native wildlife, plants and insects (including the notorious midge in summer months!).
For more information see the Glenveagh National Park website .. http://www.npws.ie/en/NationalParks/GlenveaghNationalPark.