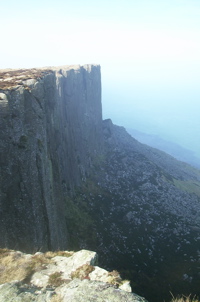 Location: Ballycastle, Co. Antrim
Duration: 3.4-4hrs
Difficulty: Easy/Medium
Starting from a small car park beside a farm, we trudge through the cattle mess until we reach the open headland. An ancient lake dwelling (Crannog) in a small nearby lake confirms that this location has been inhabited for thousands of years.  Reaching the famous Fair Head cliffs (don't look down) the route heads East along the cliff path and reaches the National Trust area at Murlough Bay.  All along the route the northerly views are of Rathlin Island and the west coast of Scotland Mull of Kintyre and islands of Islay and Jura .. (on a clear day).
At the far end of Murlough Bay we descend a trail to the shoreline, have a lunch break and then follow the road  UPHILL to the car park at Murlough Bay and then back across the headland to the starting point .. taking care to avoid the cow pats and muck .. where possible.
Refreshments in the village of Ballycastle or Bushmills on the way home.
Read a little more about the National Trust in Northern Ireland here .