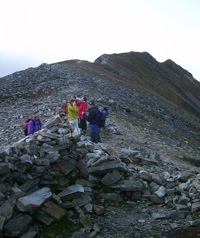 Location:  Dunlewey, Co. Donegal
Duration: 3 – 3.5hrs
Difficulty: 3 – Medium
This route approaches Errigal from the south side. A very wet and boggy path follows along the edges of a river towards the right edge of the granite cone of Errigal. Once on the rocky slopes the clearly worn path follows the eastern ridge upwards, steep and loose rock in places.
About 400m from the summit, a flat area houses a cairn, shelter from the often strong winds and a place to take a bite to eat. The final ridge to the twin summit peaks of Errigal is along an increasingly narrow ridge. Care should be taken especially in strong winds.
Views across the north coast of Donegal are spectacular from Tory Island, Gweedore and Aran Island to Malin Head in the east. Behind, the top of Benbulben and faraway Glencolmcille can be seen on a clear day.
Donegal's highest peak is a dramatic and excellent hillwalk .. for the well prepared.