October 2012 I climbed to the summit of Killamanjaro with my son Roger. 
We took two years to plan this, and a years training up in the hills of Donegal for this journey, which was amazing and an unforgettable experience.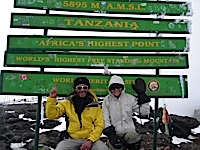 We took the Lemosho Route which is one of the longer routes, and a much quieter route, but it does enable you to have more of a chance to reach the summit, it took us six days to reach the top, and two days to get down.
We started off in the jungle for the first two days and then walked round the north side of the mountain across the Shira Plateau, at which time we were having a problem with altitude sickness but after taking medication we both felt much better.
 It was unbelievable how difficult it was to climb with the shortage of oxygen, such an effort to put one foot in front of the other. The evenings were very cold at minus 10 and rather a frosty tent in the morning, we had to wrap up warm with several layers.
The guide and his team that we went with were first class and looked after us so well, the food was as good as you would get in a hotel, it was certainly a treat each evening when we reached our destination to have a tent all ready to crawl into and a hot meal all prepared and ready.
I look  back now and wonder how I managed, but with the support of the guide and my son we achieved our goal and this memory will remain with me for the rest of my life.
I owe a lot of thanks to the Magee Hill Walkers  as without all the practise before I went, I would never have reached the summit.
Ursula Nicholson